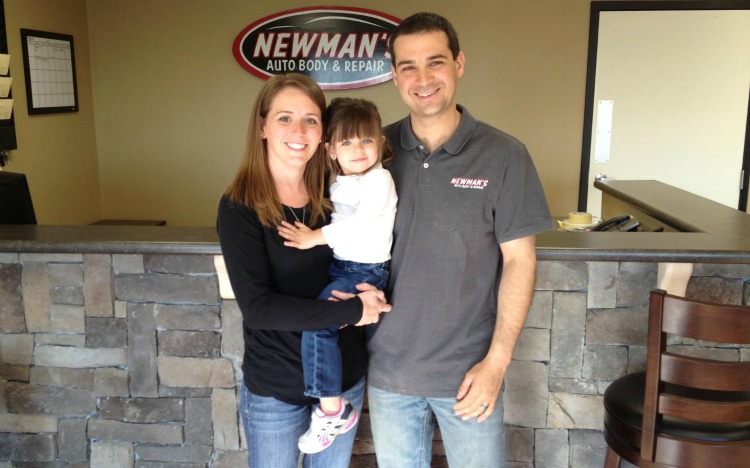 Welcome to Newman's Auto Body & Repair!
Hi, I' m Zack Newman, owner of Newman's Auto Body & Repair, and my goal is to provide you with the utmost customer satisfaction with every car and body repair. It's my intention to be the best restoration and repair shop in Kansas City and I know that it begins with the happiness of every client that we provide our service to.
Newman's Auto Body & Repair is a family-owned business that is a result of my incredible passion for restoring, customizing and repairing automobiles. Drawing inspiration from my better half, Sammi, and our 2 children, we all work together to provide our clients with the best customer experience from start to finish.
My fascination with cars started way back before I was legal to drive. Outside of work I have other interests like dirt biking, mountain biking, skiing, water sports and other action-packed activities. But my love for cars has won them all out. Being a self-proclaimed car enthusiast, I spent years working in the automotive industry specializing in high-end automotive paint, body repair and restoration. I realized that car owners usually do not want to be bothered with car repairs because they can be hard to understand. It doesn't necessarily follow that if you know how to drive, you also understand what happens underneath the hood.
During my work in the automotive industry, I witnessed car owners struggle to understand what makes their cars fail or wear out. I understand. That is what made me decide to start this business. Armed with experience from a family in the car restoration business, I can help you understand what happens to your car as you continue to use it along with how to upgrade or repair it.
Being a native of Olathe, Kansas, it was natural for me to set up shop here. Apart from catering to the car repair needs in Olathe, we also serve the greater Kansas City area including Overland, Gardner, Spring Hill, Lenexa and Edgerton.
If you are in the market for a caring body shop and you are in the vicinity, stop by during business hours and let us help you! We will do our best to provide you with the best car and body repair service in the Kansas City area. We can help you with a variety of automotive repair services that include:
Collision Repair
Frame Straightening
Paint Work or Refinishing
Mechanical and Suspension Work
Welding
Restorations
Paintless Dent Repair (PDR)

(913) 768-1300
611 S Fir St, Olathe, KS 66061
Tel: (913) 768-1300

Working time
| | |
| --- | --- |
| WEEK DAYS: |  05:00 – 22:00 |
| SATURDAY: |  08:00 – 18:00 |
| SUNDAY: |  CLOSED |
If you need with any of these, feel free to visit us during business hours. Click here to see where we are in Olathe, Kansas.
When you stop by, we can give you a free estimate with no obligations. We can also provide you with a free online estimate – click here to access our Damage Estimate Form.
You can also give us a call to let us know that you are coming. We are open from Monday to Friday, from 7:30 to 5:30, and on Saturday morning's with an appointment.
We work with all insurance companies and we can guarantee the quality of our work every time. In fact, we give our paint repairs with a lifetime warranty!
Visit our Contact Us page for more information about how and where to reach us.