Automotive Welding in Olathe, KS
Finding an automotive welding in Olathe, KS will help make your car repair look good and last as long as it is possible. Welding is a skill that you should not take lightly when considering the repair shop that you will choose to fix your car. It takes years to master the use of welding tools. It is very easy to make a mistake while handling them. Instead of fixing your vehicle, you might end up with a less than satisfactory repair that will probably not last.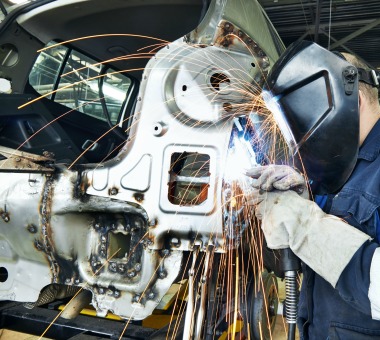 Welding is not just about forging two metals together. There are many considerations when it comes to choosing the right equipment to weld the materials together and how it will be done. The thickness of the metal will have to be considered. Not only that, the type of metal is also an important factor before welding. Most vehicles use steel or in rare cases, aluminum. This will have an effect on the welding service that will be made.
Thankfully, Newman's Auto Body & Repair employs some of the most skilled welders that will provide you with the best car welding services in Olathe, KS. If you find your car in need of a welding job, this is the repair shop that you want to go to.
The thing about welding jobs is it can also be quite expensive. Since it takes years to master, you will find that the labor will be cutting deep into your pocket. You need to look for a welder who can give you a high-quality and very strong bond between the metal pieces that your vehicle needs to be put together. You do not want them falling apart while you are traveling at high speed in the freeway. Not only is it dangerous for you and your passengers, a flying metal sheet can cause a serious accident while on the street.
This is one of the reasons why you should go to Newman's Auto Body & Repair for high-quality welding services in Olathe, KS. When you ask for an estimate, give them your budget so they can keep it in mind when you ask for a quotation. You will be provided with an honest estimate that will help get your vehicle back in shape without breaking your wallet.
If you are looking for the best collision repair in Olathe, KS, Newman's Auto Body & Repair is the shop that you are looking for. Visit our Contact Us page to find out how and where to reach us.
We work with all insurance companies and we can guarantee the quality of our work every time.
We can also give you a free online estimate. Fill up the form below to give us the details of your car repair needs.