Paint Work or Auto body Painting in Olathe, KS
Your search for auto body painting in Olathe, KS is over. There is one repair shop that you can rely on for the best paint work or paint refinishing job; Newman's Auto Body and Repair.
There are many reasons why car owners would want to bring their vehicles for some paint work. The most common reasons include fading, chipping or peeling. Some are looking to customize the color of their vehicle while others may be more interested in restoring their car's paintwork ahead of a lease return or sale. Then, of course, there are those who need a vehicle paint job because of an auto accident or collision.
Regardless of your reasons for needing a paint job for your vehicle, you have a couple of options when it comes to the type of paint work or paint refinishing that you authorize. Most repair shops will give you options that is according to your specifications and your budget. Usually, the difference lies in the longevity of the paint and the appearance.
Those who want a basic body painting for their car in Olathe, KS, will be given a single-enamel paint job. This is usually enough for those who simply want to refresh the look of their car. If you want the paint of your car to last longer, urethane-type paints can be used. This is usually more durable because it resists chipping and is more resilient compared to an enamel finish – but it will cost you a bit more.
The more expensive paint work or refinishing that can be offered to you often times includes additional services like a light chip and scratch repair or priming and block sanding. This will all be done after the initial prep of the vehicle. Of course, a urethane sealer will be used to make the paint last longer.
When it comes to car paint, we only use the best materials and paint for your vehicle. Our guarantees are backed by our focus on quality.
If you need  auto body painting services in Olathe, KS, Newman's Auto Body & Repair is the right shop for you. We can give you an estimate for the type of paint job that you need. If you have a budget, let us know and we will work around it. We will assure you of the best paint work or paint refinishing service based on what you can afford.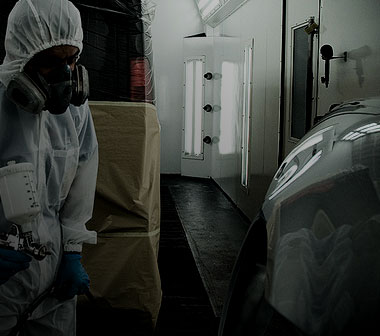 Visit our Contact Us page to find out how and where to reach us.
We can also give you a free online estimate. Complete the form below to give us the details of your car repair needs.
We work with all insurance companies and we can guarantee the quality of our work every time.