Mechanical & Suspension Repair in Olathe, KS
To avoid compromising your control over your vehicle while driving, you need to know when it is time to look for suspension repair in Olathe, KS. This is an important repair because leaving your suspension in its worn out state will make you more vulnerable to accidents. You need to have the mechanical and suspension work done when your car tells you that it needs to be done.
The suspension of a vehicle (shocks, or struts), should never be taken for granted. A lot of people think that it is not as important as changing the oil of the car or the brakes. The suspension does not only help with making the ride smooth. It can have a huge effect on your control of the vehicle. This is especially true when it comes to turning or stopping. After years of using your vehicle, the shocks will eventually wear out and will need replacing.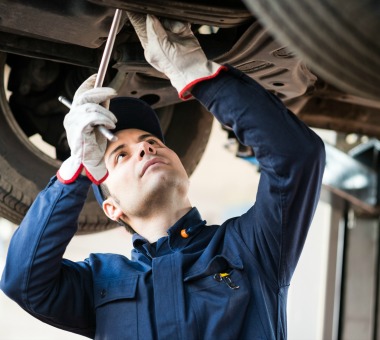 There are a couple of signs that you need to start looking for a suspension repair shop in Olathe, KS. Here are a couple of them.
The vehicle bounces when going over a bump in the road.
There is fluid leaking out the body of the shock or strut – even if it looks greasy, that still means there is a leak.
The car feels like it is drifting or pulling when you make a turn.
The strut or shock is dented or looks damaged.
The car lurches forward when you step on the brakes.
The tire treads look uneven – which means the suspension is not holding the car properly and thus puts more pressure on one or more tires.
There is more effort required in steering the car.
In case one of these observations are true, you should go to a reliable shop that provides mechanical and suspension work in Olathe, KS. You want to have your vehicle's suspension back to its original form get an improved riding experience, better control, shorter braking distance, increased stability, and most of all, assurance of a safe ride.
When it comes to providing high quality service at an affordable price, Newman's Auto Body & Repair is the shop that you are looking for. Visit our Contact Us page to find out how and where to reach us.
We can also give you a free online estimate. Click here to give us the details of your car repair needs.